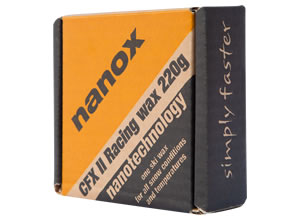 Nanox CFX II
Description:
The only racing wax for all snow conditions and temperatures. Top glide performance thanks to nanotechnology.
Up to 5% faster.
Fluoro free.
Super simple application.
Nanox CFX II race wax 220 g for 15 - 20 pairs of skis.
Price: 139,00 EUR

DETAILS
Supernano II
Description:
New! Special wax for extremely warm and wet conditions. For snow temperatures near 0°C / 32°F degrees. Top glide performance thanks to nanotechnology.
Up to 5% faster.
Fluoro free.
Supersimple application.
Nanox Supernano II 15 g for > 100 pairs of skis.
Price: 139,00 EUR

DETAILS
Training extra hard
Description:
New!Extra hard training wax & base preparation for extremely cold conditions and high friction. Especially for Downhill and Super G.
Protects the base.
Lasts longer.
Fluoro free.
Super simple application.
Training extra hard 300g for 25-30 pairs of skis.
Price: 49,00 EUR

DETAILS
Training wax
Description:
Universal wax for training and base preparation for the highest ground speed with constant use.
Protects the base.
Lasts longer.
Fluoro free.
Super simple application.
Training wax 300 g for 25 - 30 pairs of skis.
Price: 39,00 EUR

DETAILS
Nanox brush
Description:
Extreme hard nylon brush.
Ergonomically formed nylon brush
to brush and polish Nanox waxes.
Superhard nylon brush for optimal polish of the Nanox waxes.
Price: 35,00 EUR
Magnet / Diamond
Description:
The ultimate tool for edge finish.
One tool two materials, diamond for deburring and sharpening the edge and a special magnet for cold forming and harden the edge.
Price: 59,00 EUR
Nanox Scraper
Description:
Plexi scraper for wax scraping. For all skiers and waxers. Sharp and effective.
Price: 8,00 EUR
Nanotechnology
The technology of the future. The advantages of the nanotechnology in ski waxing are extreme long bonding with the coating and best gliding performance under all conditions, because of the nano particles' ability to adapt to different temperatures and conditions.

Through the collaboration with analytical chemists from different countries specialized in nanotechnology and with their combined expertise we succeeded to develop Nanox ski wax. By now several World cup service tech and tuning experts of well known race ski manufacturers are using and testing Nanox wax and also our ski tuning machines. Hence, resulting a new input help us to further develop and improve our products.
NANOX WORKSHOP
Professional ski preparation: base preparation, base repair, ski tuning, waxing, presentation of Nanox products, analysis of your own skis.
Nanox simply faster.

APPLY TODAY!